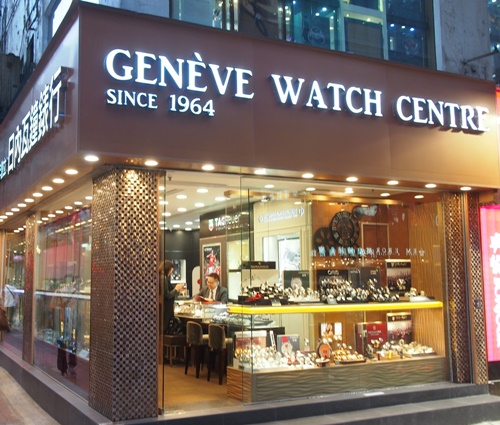 Established in 1964, Genève Watch Centre has been one of the leading watch retailers in Hong Kong for more than 50 years. Located in the heart of Tsim Sha Tsui, we specialise in selling a wide range of new brand name watches. As their official authorised dealer, it is our mission to offer the very best in price and service to our customers.
日內瓦鐘錶行成立於1964年,並成為香港著名手錶零售商之一已超過50年。商店位於尖沙咀的心臟地帶,專門銷售各式各樣的名牌手錶。作為多個品牌授權經銷商,我們的使命是為客戶提供最佳價格和優質服務。
We stock over 50 famous brands for sale in the shop from prestigious watches such as Cartier, Piaget, Tag Heuer, Omega, Rado, Longines, Jaeger LeCoultre, Gucci, Baume & Mercier, Tissot to competitively priced ones like Seiko and Casio.
我們擁有超過50個著名品牌手錶,包括卡地亞、萬寶龍、豪雅、名士、歐米茄、雷達、浪琴、積家、古馳、天梭,或具競爭價格的精工、卡西歐等。
Whether you would like to indulge yourself in a little luxury or are looking for a gift for someone special or just a watch for daily wear, you can find it in our shop – in Hong Kong or online. We have watches for all occasions, in stainless steel, gold or silver, with diamonds and gems or plain, for men and ladies.
無論您是想獎勵自己,還是尋找禮物給一位特別的人,或只是日常穿帶的手錶,您都可以在本店鋪找到。我們有合適任何場合的男女手錶,如鋼、黃金或白銀、鑽石和寶石或簡樸款式。
Dress watches, sport watches, designer watches, chronographs, stop watches, pocket watches, nurse watches, student watches – take your pick.
無論是襯衣服的手錶、運動手錶、特色手錶、時計腕錶、計時表、袋表、學生手錶,本店都可任君選擇。